Further consultation has taken place on the future of the Armstrong Hall in Thornbury, with a new option to rebuild the Hall on its current site now also being considered.
This new consultation builds on earlier consultation, which set out proposals to refurbish the Armstrong Hall on its existing site or relocate the facilities currently provided into a new build extension to the side of Turnberrie's. Since then South Gloucestershire Council has made the decision to move the Library into Turnberrie's.

Thornbury Town Council and the Armstrong Hall Charitable Trust has undertaken further work to address the concerns raised which saw 75% of respondents preferring facilities to remain in the current location and developed a new third option to completely rebuild the Armstrong Hall on the existing site.
This new rebuild option is estimated to cost approx £4.9 million and would see the current Armstrong Hall demolished and rebuilt, whilst retaining and incorporating the Cossham Hall and Museum. This option would enable the site to provide increased facilities, a larger and more flexible hall, improved performance space and additional capacity to meet the growing population of Thornbury. It also addresses the concerns raised about retaining the historic Cossham Hall, how the museum would be accommodated and retains local ownership of a key asset.
Further work has also been undertaken on the refurbishment option to provide more detail about the facilities that could be provided and modernised and the cost of this is now estimated at £2.85 million.

With regards to the third option to relocate the facilities currently provided at the Armstrong Hall to a new build extension at Turnberrie's, South Gloucestershire Council have now confirmed that they are not willing to transfer the freehold of the Turnberrie's site to a locally based organisation.
Instead they would offer a 50 year lease in return for significant investment of approx £4 million nto the site and further negotiations about who would manage and operate the facility with the existing leaseholders would still need to take place. Also if this option was progressed, it is proposed that the existing Armstrong Hall site would be sold for redevelopment, and the proceeds used to part fund any new facilities at Turnberrie's. Since the previous consultation, the Town Council and Trust have undertaken further work and on the development potential and associated valuation of the Armstrong Hall site. This has significantly reduced the capital receipt the site would be likely able to generate and increased the amount of alternative funding that would need to be found to fund these works.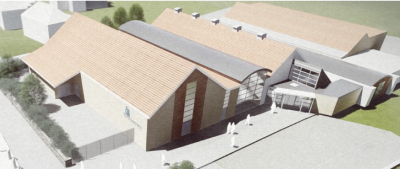 Having considered South Gloucestershire Council's offer regarding the ownership and governance of the Turnberrie's proposal, together with further information about the design and costs of all the options, the trustees and councillors now favour retaining and improving the Armstrong Hall facilities on the current site.